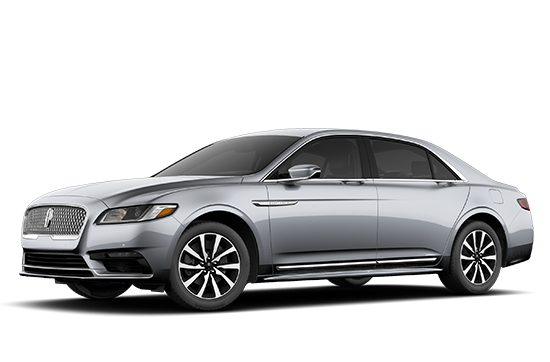 Lincoln Continental in Lynchburg VA
The Lincoln Continental is a roomy midsize sedan that provides a luxurious and safe drive. The quiet interior makes for a nice driving experience, as do the comfortable seats. The various trim packages come with a powerful V6 engine, which has power that pairs well with the Lincoln Continental's responsive handling.
Safety features of the Lincoln Continental include automatic emergency brakes, blind-spot warnings, and forward-collision warnings. It is a car you can feel safe in as you drive through the beautiful Commonwealth of Virginia. If you want to know more about the Lincoln Continental, please do not hesitate to get in touch or pay us a visit at Berglund Luxury Lynchburg.
What's New in the 2020 Lincoln Continental?
2020 is the most recent year for Lincoln Continentals. This model year is part of the 10th generation of Continentals that debuted in 2017. As the previous generation ended in 2002, there were major changes to the newest Lincoln Continentals.
The most noticeable upgrade is the overhaul of the exterior. A flashy grille with LED lights is the hallmark of the new Lincoln Continental. The interior has a high-tech infotainment touchscreen with smartphone compatibility and interfacing with radio and navigation systems. Ten-speaker stereos with satellite radio mean an eclectic variety of high-definition music. You can also get models with built-in navigation and up to 19 speakers. There are 10-way power adjustments for the seats with optional upgrades that bring it up to 24-way and 30-way power adjustments. There are also heated seating options for driving in ultimate luxury.
The Lincoln Continental comes with a variety of engines, with the nicest available option being the Twin Turbo V6 boasting 400 horsepower. The standard 3.7-liter V6 engine still has 305 horsepower. The standard Continental is front-wheel drive, with all-wheel drive options.
History of the Lincoln Continental
The Lincoln Continental began as a personal vehicle for Edsel Ford, son of Henry Ford, in 1939. It was a flashy convertible based on the existing Lincoln-Zephyr, which Edsel wanted for a vacation. It piqued the interest of his rich friends, and they decided to produce them for market. The name Continental is derived from its European style.
Over the decades, the Lincoln Continental came into and out of production. Each generation seemed to immediately precede the previous one until the 10th, which came after a 15-year hiatus. The different generations of Lincoln Continental have at times served as the company's flagship model or as its basic economy car. This beautiful vehicle has remained extremely popular among people looking for a classy, comfortable sedan.
Over the years, Lincoln, a subsidiary of Ford, has updated its Continental line to remain a highly respected luxury sedan. Today, Lincoln Continentals are some of the nicest-looking vehicles on the road. They have a low stance and gorgeous front grille that combines modern sophistication with a vintage slickness.
Lincoln ended production of the Continental in October 2020 with no plans to continue producing the vehicle.
Find Your Continental at Berglund Luxury Lynchburg
Whether you are trying to get a closer look at the Continental or want to check out other luxury vehicles, come visit us at Berglund Luxury Lynchburg. We are always updating our inventory of new vehicles and also keep pre-owned vehicles in stock to get you the best car for your needs. We offer amazing deals on a wider variety of makes and models along with on-site financing to make sure you go home driving a vehicle that makes you happy.